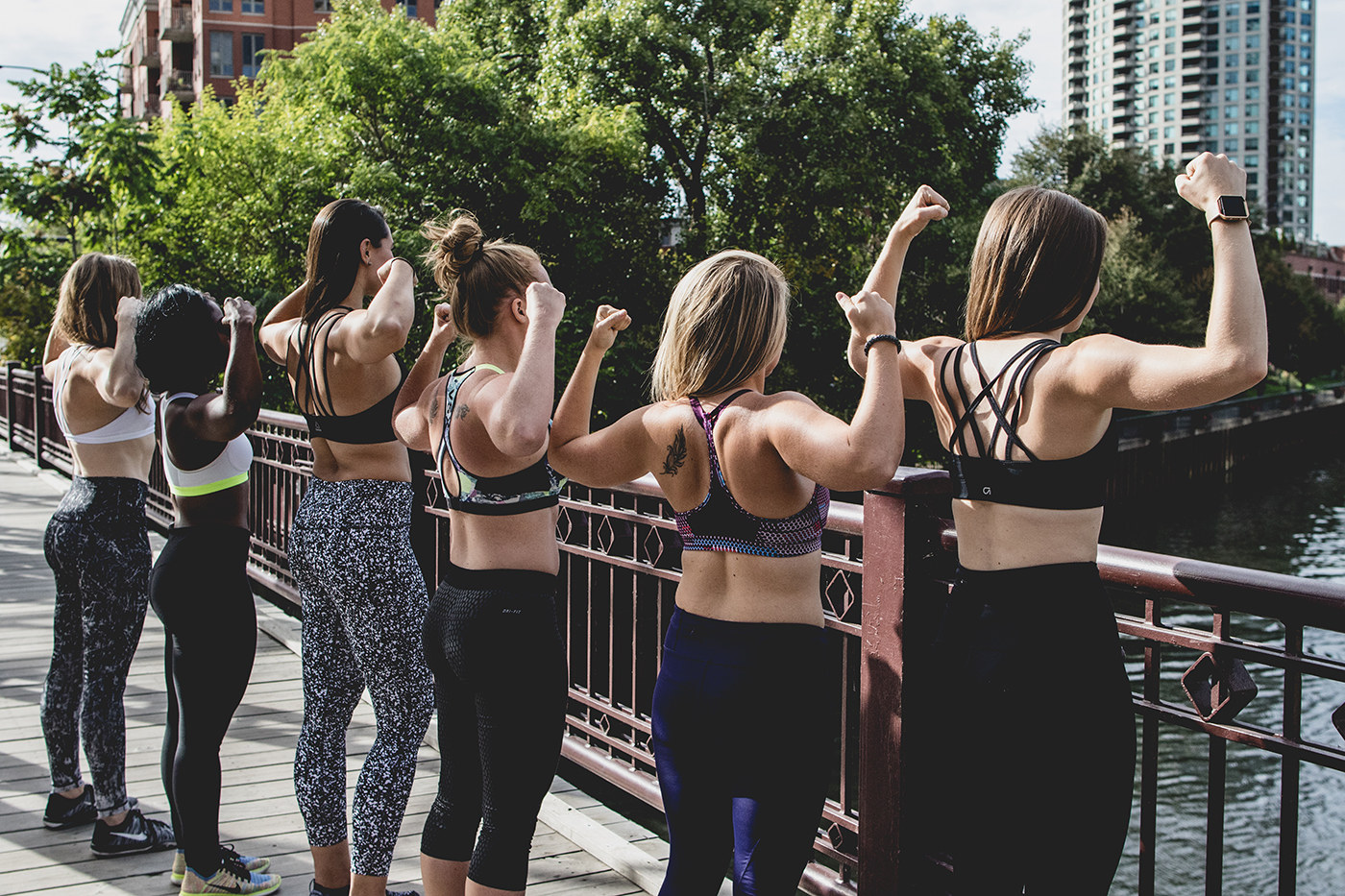 We all need support when we work out, especially when it comes to our breasts. After all, hasn't everyone experienced one of those situations where we've been neglectful of the laundry and put on whatever sports bra was clean? Then once we start moving around, we realize that wasn't only a bad decision, but potentially one down dog away from breaking the law.
The problem is that the wrong sports bra doesn't just feel uncomfortable or hinder our ability to move around, but according to Dr. Nina Watson, who is a board certified diagnostic radiologist and breast imaging specialist, it can result in long term affects no one wants.
What should you know when thinking about how to buy sports bras?
"Wearing a sports bra without enough support can cause stretching of Cooper's ligaments and eventually result in sagging of the breasts," Dr. Watson said. "A sports bra that is comfortable, supports your breasts, and reduces movement is key."
So you would think the easiest thing to do is to only wear maximum support sports bras, but that isn't the best idea either.
Levels of support
"Maximum support is important in high intensity/high impact exercises, while less support could be considered for lower intensity workouts where there is less movement of your body," Dr. Watson continued. "Although support is important, your sports bra should still be comfortable. If the bra is too tight it can interfere with proper breathing."
Part of the problem is that trying to find the right sports bra feels like it is just about as easy as finding your soul mate. Hasn't everyone had the experience of going to a store, standing by a giant wall of bras and having no clue what to do next? Denise Lee, founder and CEO of Alala, says the best place to start is to think about the purpose of the bra.
"Think about what activities you're going to be using it for—high impact, low impact, every day," Lee said.
The straps and the band of the sports bra
The next step is to let the straps be your guide. "Pay attention to the strap widths as that will indicate how much support the bra will give you. The thicker the strap, like Alala's Crusade bra, the more supportive it will be. The thinner the strap, the more comfortable for every day, such as Alala's Barre bra."
But it's not just the straps you need to consider, it's also the band. Sacha Nadeau who is a designer for RYU suggested, "Make sure the contour (bottom band) of the bra fits you right. By fitting right, I mean that it supports you without being too tight."
Nadeau also emphasized the importance of cups when determining fit. "You want to make sure the bra cup offers enough room for your breasts. So, this means that your breasts are not compromised, but also that the cups cover them properly and that it doesn't create any 'fat' excess at your arm pit."
Don't forget about fabrics
Then there is the fabric itself, which is very important if you plan on getting sweaty. Fit Atelier co-founder Melanie Morton told me, "If you're doing any HIIT, running or super sweaty activities, invest in a bra that has technical fabric that wicks sweat and is super breathable. These tech fabrics allow you to sweat without getting soaked during your workout and keep you from overheating, so you can work out longer."
It's also important to read the label on the garment. If you plan on doing high-impact workouts, make sure you are buying a "bra" and not a "bralette."
Tracy Buescher, President and Founder of nuyu, explained that the term "bralette" isn't just a cute way to say "bra" but is a different thing entirely. "The main difference between a bra and a bralette is that a bra is a necessity for women with functional capabilities while a bralette is often worn as a non-functional statement piece."
That being said, if you plan on doing something low impact like yoga or Pilates followed by brunch, a bralette might be the way to go.
"Bralettes can be both pretty and functional for low impact activities," Buescher said. "They are often seen peeking out of loose-fitting tops or even worn alone. They are designed to provide coverage, but they do not really provide the support of a traditional bra."
When shopping online …
While we all know it's ideal to go to a store and try on bras, buying online is just more convenient. But instead of chancing it, Lara Mead who is the founder of Varley shared some great tips to keep in mind.
"[First,] measure yourself. [It takes] two minutes but you will know where you fit. There are plenty instructions online."
"[Second,] if you are in-between sizes, look for bras with adjustable straps and hooks, such as Varley's Martel, Bolton, Gale bras. It will give you more flexibility with sizing."
"[Third,] if you are still in doubt and this is your first time buying a bra from a particular brand, avoid high support and go for styles that are less compressive and adjust to your body. Also avoid mesh fabrics."
Lee's approach is to try on at home. "I like to buy several different sizes to try, especially if the company has a good return policy," she said. "Everyone's bodies are so different and companies size so differently that the only way to be sure is to try the different sizes on."
She also suggests taking advantage of all the information the website gives you. "Check out the cup size on the model, it'll give you an idea of how the bra will fit you in relation to the picture. I always check out reviews of the bras to get a well rounded opinion on the style."
Know when to say goodbye
Another thing to remember is that all good things must come to an end, especially when it comes to sports bras. A bra that has an adjustable hook and eye will last longer, but the more you work out, the more often you will need to replace. Morton says, "Throw out bras that have lost their shape over time. If the seams have pulled at all, it's probably time to invest in a new sports bra."
And if a bra makes you break out, it's time to say bye-bye. "Get rid of any bra that allows sweat to pool in your cleavage area/chest. Allowing sweat to stay in that area will cause chafing, pimples and rashes." While it's sad to bid ta-ta to your favorite sports bra, it is the best excuse to treat yourself to something new.